The integration capabilities bring the video tools to the system where faculty, students, and employees are most familiar. Videos can be created, edited, managed, and viewed without leaving current systems, such as D2L, Canvas, Blackboard, and Moodle.
Benefits of an integrated video platform
There are many benefits to integrating a video platform within your current system. Here's a look specifically at how it can work for educators.
Instructors have the ability to assign video response assignments to students in their class. Students can record videos directly from the assignment page.
Any video embedded in the instructor course can be viewed and tracked on any device, any time.
In-video questions, comments, and interactive caption searches are accessible regardless of how the students view the video.
Integrating VidGrid's interactive in-video quizzes enables instructors to link their videos directly to grade books. Graded video quizzes pass directly to instructors' grade books as soon as the video activity is completed. Student results can also be viewed from the video itself for instant feedback, without navigating to the grade book.
Automatic interactive captions ensure every video is accessible and searchable from the video player for all viewers. VidGrid meets or exceeds WCAG 2.0 AA accessibility guidelines with support for screen readers, keyboard functionality, and color contrast.
Single-sign-on simplifies provisioning and roles. Faculty and students can use their University credentials, which allows users to access all of the appropriate content based on their roles within VidGrid when logging in.
Integration details for educational systems
Videos can serve a big role in educational systems that use Learning Management Systems such as D2L, Canvas, Blackboard, and Moodle. Here's a look at how they can be integrated within each system:
VidGrid offers four LTI integrations for your LMS.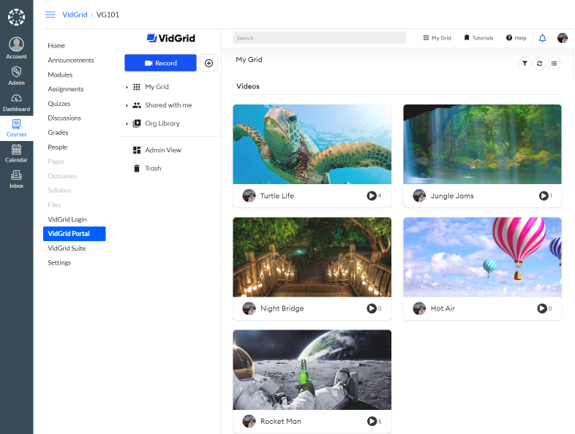 (Pictured above: VidGrid portal inside Canvas)
VidGrid Embed: Easily record, upload, or search for existing videos to insert into your course. The VidGrid Embed icon will appear in the Rich Content Editor (RCE). The instructor can preview, add questions, request captions, and edit the video from the integration before it is inserted into a course.
VidGrid Quizzing: Grades from in-video quizzes are automatically passed back to the gradebook upon video completion. Simply create your video quiz and assign it to you learners. Instructors and learners can see scores for instant feedback.
VidGrid Student Recording: Assign video recording assignments to your learners. The student records and previews the video all from within the LMS. The instructor receives the video in their course folder as soon as the learner approves the recording. These assignments can be added as graded assignments to the gradebook.
VidGrid Portal: Insert the whole VidGrid app experience within the LMS environment. Instructors can access their manage their Grid, edit videos, request/edit captions, duplicate and combine videos, share videos, viewing analytics, and much more without leaving the LMS.
Interested in looking at the setup process? Check out our step by step guides on each integration.
If you would like to see a more in-depth demo of how we integrate into your platform, reach out to our team to set up time: sales@vidgrid.com.
You can also see how video is used from the instructor side with our EDU video folder.