VidGrid's Video API makes it ridiculously simple to truly integrate video into your application. We've built a full video platform and now exposed it via API so you don't have to.
"It was really easy for us to implement the API. I sent it to the developer of the customer web portal and within an hour he was able to get it embedded, mock it up, and show me the screen the customers would use."

- Heather Beck, VP of Global Support, Helpsystems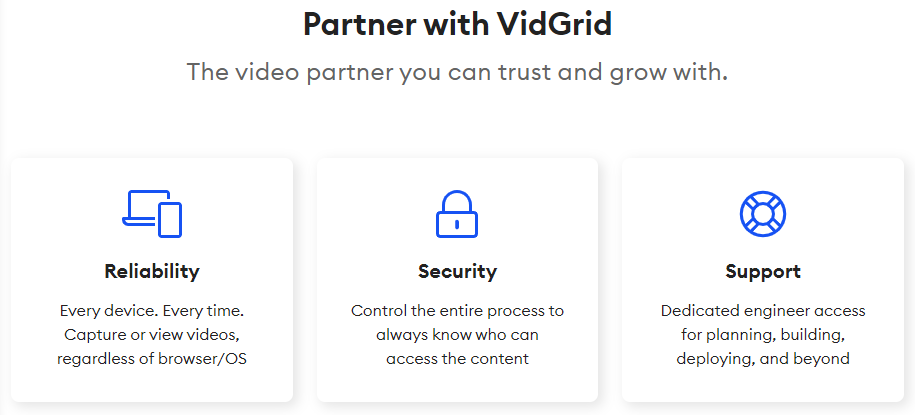 Noteworthy Video API Features
VidGrid's recorder is best in class for video creation on PC and Mac; integrate simple video recording/uploading directly into your application. To bring the full video experience to your viewers, we have added management and viewer playback to the Video API.
Here are a few of the exceptional capabilities with the VidGrid Video API:
Create folders
Embed videos
Custom player controls
Viewer tracking
Video security permissions
Closed captions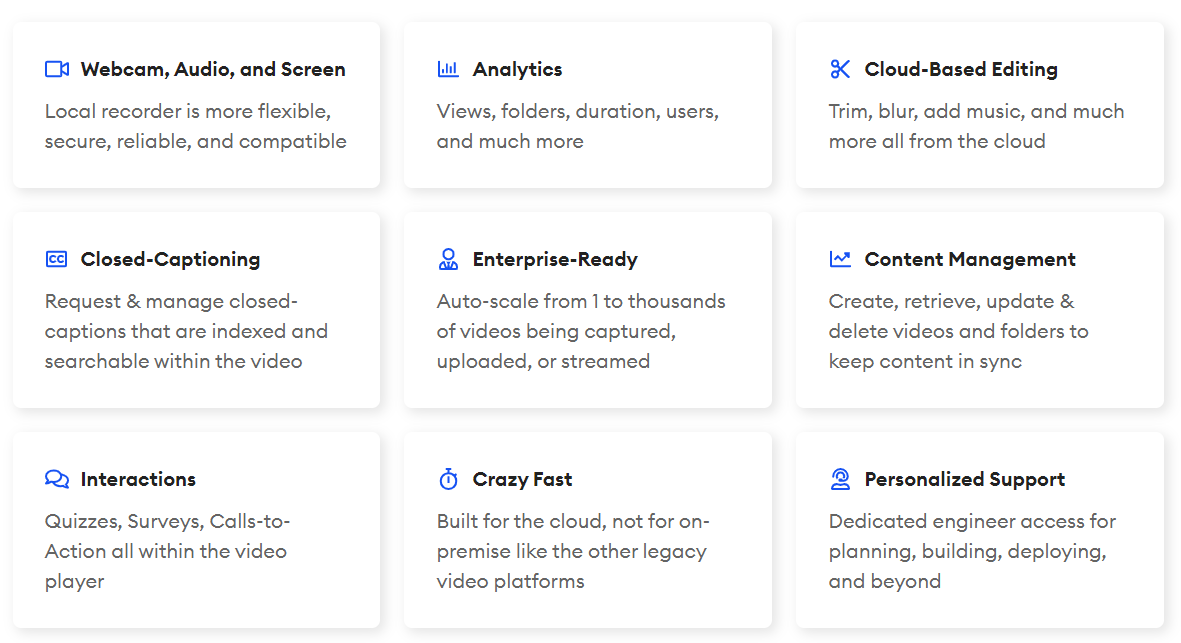 Who is VidGrid for?
VidGrid is for companies looking for a full service video as a standalone solution, third party integration, or a custom solution to integrate with their LMS or specific application. If you are building a service that could leverage a powerful video solution, check out our API!
How does the Video API work?
VidGrid is a simple, server-side REST API used to create and manage resources on your VidGrid account. You can also control the VidGrid player, subscribe to Webhooks, and more. Check out the developer documentation for more details on how the API works.
How much does VidGrid cost?
VidGrid works with companies of all sizes from start-ups to Fortune 500. If you'd like access to our API, reach out to our team at sales@vidgrid.com to discuss the scope of your project. To view our competitive pricing or test out the VidGrid platform, check out our free 14-day trial.
What's next for VidGrid Video API?
On the roadmap, we're planning to allow even more customization such as managing users and full content searchability.
Want to learn more? Check out our developer docs or email support@vidgrid.com