Video is your secret weapon to stand out. Sales teams that use video in email communication see:
40% higher open rates
5x higher click-through rates
8x higher open-to-response rate
3x higher forward rates
How to record videos within your email platform
1. Using Google, Outlook, and SalesLoft
VidGrid offers email integrations for Google, Outlook, and SalesLoft so you can record, edit, send, and track videos right within the platforms you are already using.
Simply add the integration to get started.
2. Using Outreach, Hubspot, Pardot, or anything else
Simply make the video within the VidGrid platform, and then copy and paste the video into your email draft.
You might be thinking something along the lines of "(1) It's impossible to 'copy and paste' videos, and (2) emailing out full video files seems like a horrible idea." You are 100% correct.
When you "copy" a VidGrid video, you are not really copying the video. You are copying a GIF preview of the first 5 seconds of the video. And when you paste it, you get a play button overlay with a link to the full video, that looks like this: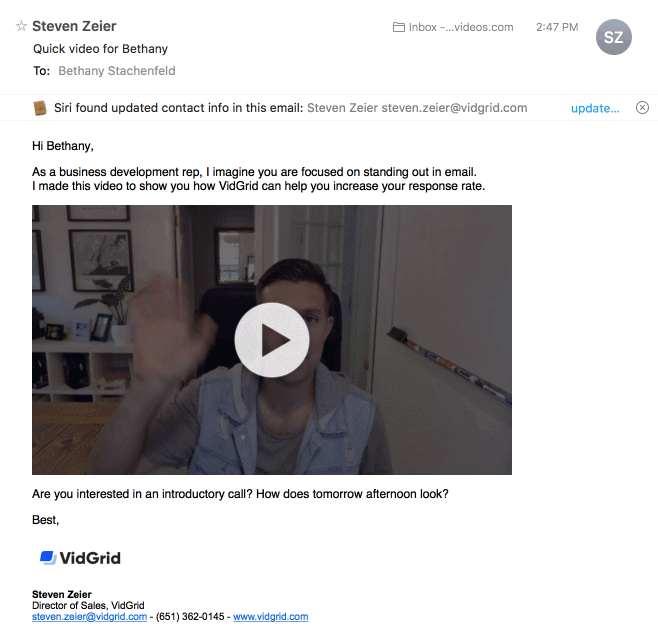 So, you really can email your "video" out through any video platform without worrying about sending out large files or triggering spam filters.
Just click the "more" option under your video and select "Copy GIF." You can now paste that GIF directly into email drafts.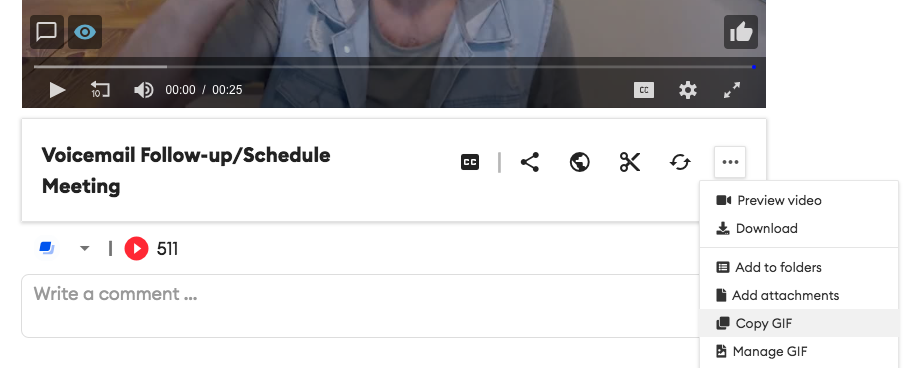 What to write in your Email
The email text should be short and sweet. You want to draw the focus to the video. If you give away too much in the text, they may not watch the video, and you lose the chance to build the face-to-face connection.
This script has worked well for our team:
Subject: Quick video for [Name]
Hi [Name],
As a [job title], I imagine you are focused on [goal].
I made this video to show you how [your company] can help you [achieve goal].
[Insert video preview]
Are you interested in an introductory call? How does tomorrow afternoon look?
Best,
[Your Name]
What to say in your Video
The content of your video will vary based on what you hope to accomplish. Read more about one of these common video steps to learn more about what is right for you:
(Also always remember to go through the Best Practices for Video Recording checklist before you hit that "record" button).