Overview
As a Salesforce partner since 2003, Trident Contract Management has successfully led hundreds of Salesforce clients through implementations. Trident takes their customers through every stage of the of the Salesforce implementation process.
President of Trident, Todd Steiner, oversees and empowers his team of project managers, coordinators, and developers to implement Salesforce for their clients. Prior to adopting VidGrid, Todd and his team spent dozens of hours a week just communicating with customers. To learn their clients' preferences, smoothly onboard new users, run acceptance testing, and manage defect recreation, they dealt with lengthy webex calls, novel-length emails, and a seemingly infinitely number of screenshots back and forth.
"We get hours back by having people go record something on their own time, instead of sitting through hours of WebEx calls with them."

Todd Steiner, President, Trident Contract Management
Improving The Customer Experience from Four Angles:
Trident explored video recording to gain a leg up on competitors. They found that VidGrid was a perfect fit, because not only does VidGrid allow their consultants to record videos, but it also provides an easy way for their consultants to request screen recordings from clients via a Guest Recorder. This two-way asynchronous video communication, tied in with an intuitive video management platform, empowers Trident to communicate more efficiently and effectively with customers.
They leverage VidGrid in 4 primary ways to provide a superior customer experience:
1. Allow Clients to Demonstrate Current Workflow
With clients coming from other systems, applications, or spreadsheets, Trident needs to efficiently and effectively learn their clients current workflow and preferences for their system. By using VidGrid, they can easily send their clients a link to the guest recorder, prompting them to record their current processes, and have them explain their preferences.
From there, the videos directly go to their development team, and they can see the exact click path the client takes to complete certain tasks, and hear in their own words what they like or dislike. Previously, this would require around several hours of WebEx calls, and many back and forth interactions to receive the same information.
2. Optimize User Acceptance Testing
User Acceptance Testing (UAT) is a crucial part of any software implementation. In a nutshell it is a process for verifying that a solution works for the user.  By using VidGrid for UAT, Trident has allowed their clients to easily and effectively communicate that the solution ticks all the boxes they were hoping. They can record their walk through on their own time, explaining in their own voice as they go, and when they are finished they can send it back to the Trident team.
3. Bug Recreation
Previously when a client encountered an error, Todd's team would receive several emails with screenshots from clients. However, without knowing which click path the client took and without seeing the finer details it took many back and forth interactions before diagnosing and resolving the error.
Through leveraging VidGrid, Todd and his team can now send out a link prompting the client to reproduce and record the error, allowing the whole story to be seen and heard. This prevents any loss of information, and allows their team to resolve client errors rapidly.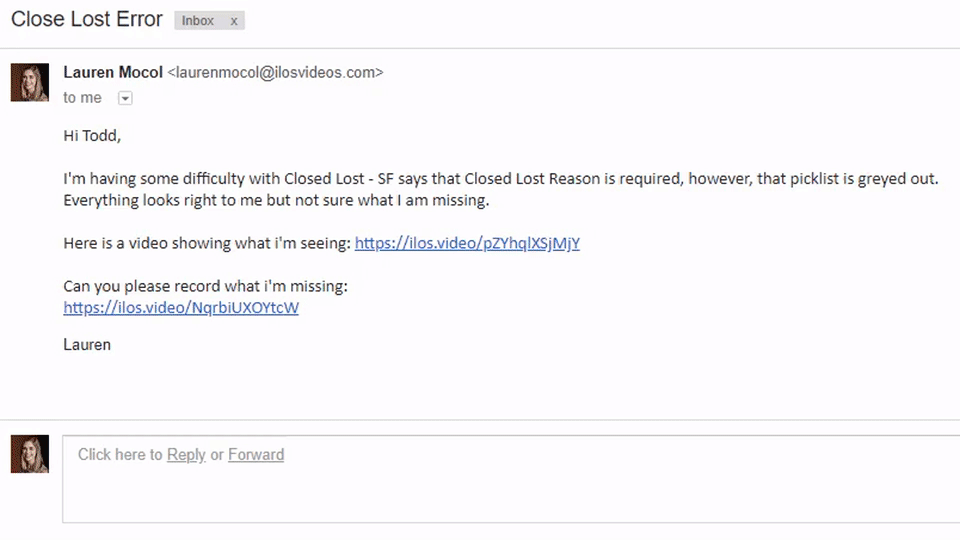 4. Capture Personalized Training and Onboarding
Outside of the initial implementation, the biggest concern for the Trident team is adoption and training. By incorporating a number of training videos recorded by Todd and his project management team, it allows for a personalized training and onboarding experience. They can speak to the clients needs and wants in a way that's cohesive to their goals.
The Solution:
By incorporating VidGrid into their client interactions, Trident has saved roughly 35 hours a month per project manager by eliminating back and forth communication and lengthy WebEx calls.
They have found multiple use cases across their organization for client demonstration, training and onboarding, user acceptance testing, and defect recreation. In return, the Trident team has maximized the owners, project managers, coordinators, and developers time and interactions with clients by leveraging simple asynchronous video communication and video management.