As the world's leading independent software provider, Informatica is focused on delivering not only transformative products, but also innovative solutions to customer service challenges. Case resolution time is a universal challenge. The issue gets exponentially more complex when you have a rapidly growing team of more than 250 people supporting thousands of customers across the globe like Toyota, GE, ING, and Chase.
Challenges
Information is a support agent's most powerful tool when working against the clock to solve customer issues. It takes four days, on average, to collect sufficient information from a customer before an agent can even begin resolving an issue.
Because customer cases are routinely vague in nature, an agent's only recourse is to schedule an exploratory online meeting. Even if an online meeting isn't warranted, agents must invariably follow up via email to get basic information before even beginning to craft a solution.
This prolonged process adversely affects productivity, which is important for any customer support team and critical for a rapidly growing one. New agents waste time in customer support "limbo" waiting for information instead of quickly gaining experience or collaborating with veteran agents to understand routine customer issues.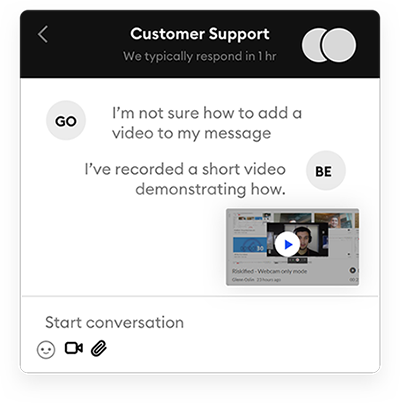 Informatica faced the following barriers to decreasing case resolution times:
Lack of attention to detail when customers reported issues – ⅓ of time spent on information gathering
Customer support productivity hampered by long response time from customers
No feedback-loop about product issues to customers, other agents, or product team
Time to resolution increased by 25% as problem complexity increased
Webex sessions, the most expensive interaction channels, took hours of agents' time
World Class Recognition
Informatica received 2nd place at the Stevie Awards for Sales & Customer Service in the "Best Use of Technology in Customer Service – Computer Services and Software" category. Informatica attributes it's success in customer service due to the integration with VidGrid.
Innovation
Informatica discovered VidGrid, an easy-to-use video platform that has had a significant impact decreasing case resolution time and increasing agent productivity. Customers record screen captures in 1080dpi mp4 video directly from the customer portal that describe their issue in detail and in context. The tool automatically embeds the video in the case prior to submission.
Benefits include:
Info-packed issue descriptions: The videos capture critical information and context that customers are often incapable of articulating independently.
Faster case resolution: Engineers can research the issue while waiting for customer response, cutting down on case resolution time.
Improved customer experience: Customers have positive interactions with knowledgeable support agents who quickly solve their problems given their in-depth knowledge of the issue.
User-generated support content: Videos can be repurposed as case-deflecting knowledge base content and shared with the R&D team as valuable product feedback.
Results
Both metrics and customer feedback reinforce the positive impact of the video solution:
Average CSAT increased 20% when customers submitted a video with their case.
Same-day case closures more than doubled from 6% to nearly 14% of cases.
Average time spent on a case dropped more than 25%, from more than 4 days to under 3.
Average number of scheduled Webex meetings decreased by 35%.
Conclusion
Continuous innovation in customer service is integral to Informatica's rapid growth. True innovation can't be limited to internal solutions. Informatica pursued a strategy with VidGrid that transferred the onus for decreasing case resolution time from the support team to the customer and, in turn, is revolutionizing video's role in the customer service landscape. Informatica received 2nd place at the Stevie Awards for Sales & Customer Service in the "Best Use of Technology in Customer Service – Computer Services and Software" for the success they've achieved revolutionizing the customer service landscape with VidGrid!